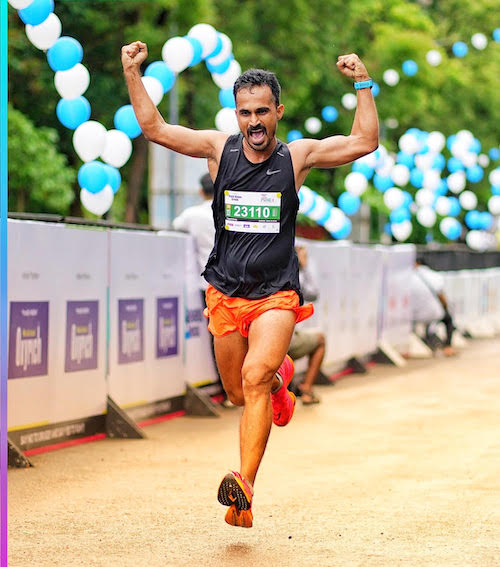 Yogesh Sanap
Pune
Running Group:
Pune Running
I am Yogesh Sanap ( YoSa ) , 36 yrs young healthcare professionals with 12 yrs of experience in Orthopaedic Implants Industry.I started running looking at my 88 kg weight and now I am 67 kg due to my tremendous dedication & hard work in the last few years.I am BQ ( Boston Qualifier ) Marathoner & Ultra road & Trail runner , My few achievements as followFM - 2 x sub 3 hrs ( PB -2:58:04 )SRT Ultra(2300m Elevation)- 3 Times ( PB -7:32 hrs)Tata Ultra - 1 ( PB -4:30 hrs)The Mawla Ghati Trail ultra 75km - (4234m elevation)HM - PB - 1:23 :43 hrs.
I paced many races successfully with in given bus timeline , also paced many athletes for Sub90 HM & Sub 3:30 FM attempt
I am ultra cyclist & secured 2 time Super RANDONNEUR ( BRM- SR ) title in cycling 🚴‍♂️ ...
Apart from my personal achievements in running, I am a long distance running Coach ( Road & Trail) and 50+ athletes training under my supervision across India.I trained athletes for BQ , Sub3 FM, Sub 3:30 FM , Sub4 FM , Comrade Ultra Marathon & many ultra Marathon( SRT , Tata Ultra) , sub 2 HM , Sub 90 HM , Sub-40 10k , Sub20 5k
Looking forward to seeing PB ( PR ) happiness of many athletes under my strong pacing in the Hyderabad Marathon in 1:45 hrs for HM.
Tagline- Follow the training process, don't think about results
Read More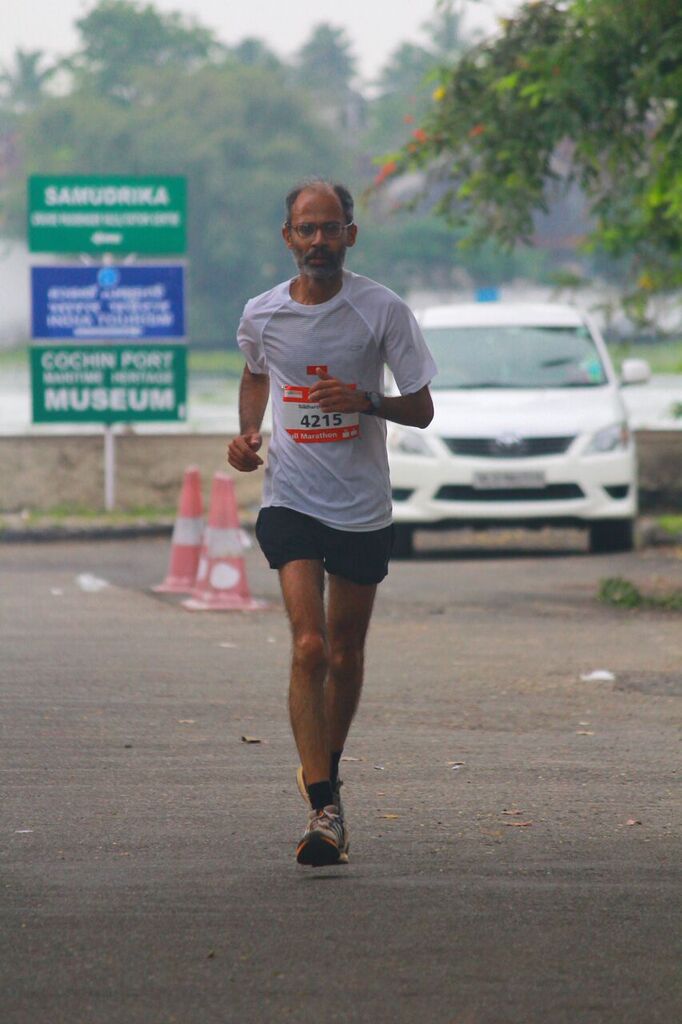 Siddhartha Menon
Bengaluru
I have been running quite seriously for about 15 years and did my first full marathon in Hyderabad in 2011, when I was 44. Since then I've run several marathons and half marathons, including Boston in 2022, with personal bests of approximately 3:22 and 1:32 over the two distances. As I grow older I seem to increasingly enjoy long runs at a relaxed pace. I am a school teacher and have also enjoyed running with and sometimes training students for long distance runs.After that first one, I've run the full marathon in Hyderabad another five times, as well as the half in 2019, which was the last time I ran in an event in Hyderabad. ...
I really like this challenging point-to-point route, with its rolling hills and net gain in altitude. And it's always a good feeling to finish in a stadium!
I have paced the four hour bus for the full marathon in Hyderabad three times, and the two hour bus for a half marathon in Chennai. I've found the experience of being a pacer to be very stimulating. You meet interesting people and learn how to be sensitive to others' rhythms; and it's a great feeling when they make it over the line with you on the bus.
As for the pacing strategy on the 2 hour bus for the half marathon, it may vary a little but it will be roughly as follows:1st half in 59 minutes at approx 5:35 minutes/km average pace2nd half in 60 minutes at approx 5:41 average paceThe pace will keep fluctuating slightly since it isn't a flat course, perhaps between 5:25 and 6:00 depending on the slope.We aim not to have any walking breaks.
I look forward to meeting all of you who come on this bus, and wish everyone taking part a great run, regardless of distance and pace!
Read More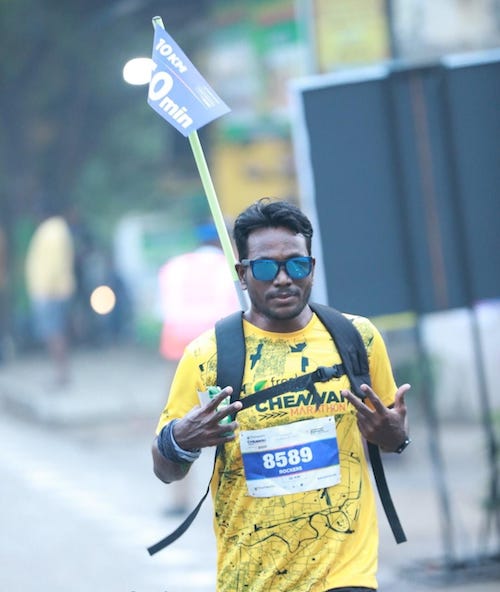 Raghu Raja
Chennai
Running Group:
Chennai Runners (Marina Minnals)
I am Rockers Raghu (BIB Name), working in an finance sector based out of Chennai. I am a sport enthusiast, spending leisure time playing and watching sports. I started my running journey from 2018 for weight loss (as I am weighted around 98kg), got motivated from colleagues, indulged in running and trekking activities associated with CTC (Chennai Trekking Club). Finished my first half marathon in 2 hrs 5 mins at Sketcher Chennai Marathon, from there on I have associated with Chennai Runners (Marina Minnals) and ran many half marathons, few full marathons and ultra. Now I weigh 70kg. Taking my fitness to the next level, I am learning swimming, aspiring to do triathlonsMy first Hyderabad half marathon was in 2022, along with my colleagues and Marina Minnals friends. ...
The course was very tough however the environment and vibe around the course was amazing. I have never experienced public, students, activists and music bands in the race course motivating the runners. I completed the half marathon in a net time of 1:45:45, though it was not my best timing in 2022, I am happy with it because of the toughness of the course.I have paced the 10k 50min bus at Freshworks Chennai Marathon 2023 and completed the race in 49 mins 24 seconds.
Course is more of rolling terrain (Up and Down), so plan to do around 5.30 to 5.40 pace in the 1st half and second half around 5.40 to 6 pace depending on terrain. Happy Running, see you all at the start of the race.
Read More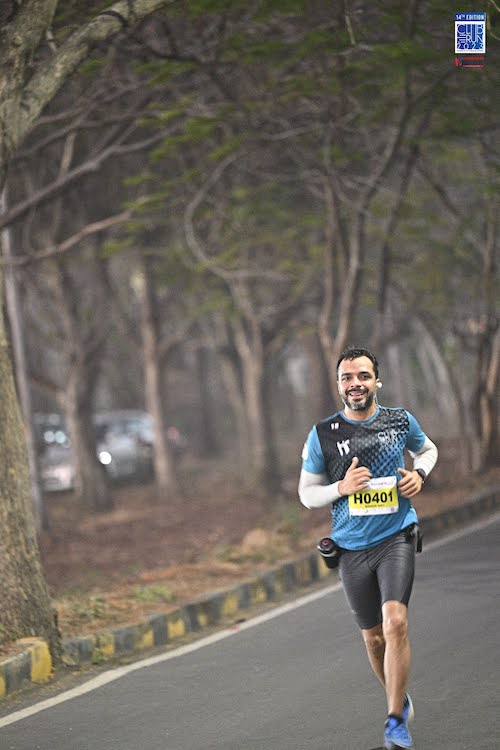 Madhur Dixit
Hyderabad
Running Group:
Hyderabad Runners
Madhur's passion for long-distance running ignited in 2017, and since then, he has left an indelible mark on the running community. With an impressive list of accomplishments, Madhur has conquered numerous half marathons and showcased his endurance at the prestigious Tata Mumbai Full Marathon in 2018.
During the initial phase of his running journey, which Madhur fondly refers to as his first chapter, he dedicated himself to rigorous training with the goal of completing a full marathon, particularly the renowned Tata Mumbai Marathon (TMM). Within a few months, distances that once seemed insurmountable began to shrink in significance. Madhur challenged himself by running multiple 21+km distances weekly in preparation for the ultimate test. ...
However, the absence of a strong focus on strength building resulted in a stress fracture during the TMM in 2018. Despite this setback, Madhur showcased his tenacity and completed his maiden marathonFollowing a successful recovery from the fracture, Madhur entered the second phase of his running and training journey. He strongly believes in the pursuit of efficient running, consistently seeking ways to optimise his performance. Madhur experiments with various terrains, explores different types of running shoes, and participates in diverse race formats to continually enhance his skills. Furthermore, he engages in cross-training activities such as cycling and swimming to strengthen his overall fitness and endurance.
A testament to his relentless dedication and continuous improvement, Madhur achieved an impressive personal best timing of 1 hour 45 minutes in the Tata Mumbai Half Marathon of 2023. As a pacer for the NMDC Hyderabad Half Marathon, Madhur Dixit brings forth a wealth of experience, unwavering commitment, and a holistic approach to running.
Read More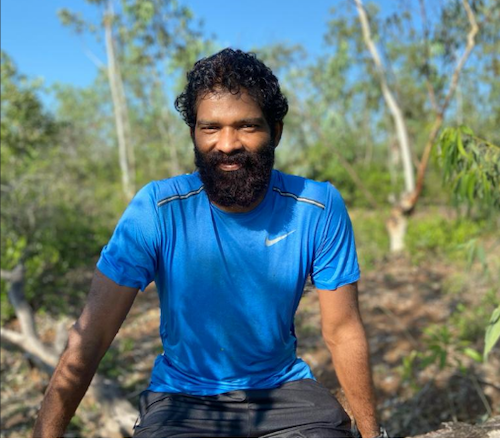 Sriniwaas
Chennai
Running Group:
Chennai Runners (OMR TrailBlazers)
I plan to run easy for most part of the run - taking into consideration the various rolling hills and flyovers on the route. The idea is to encourage and motivate everyone who runs with me.
Wish everyone participating in the Hyderabad Marathon a very strong run. See you all at the start line.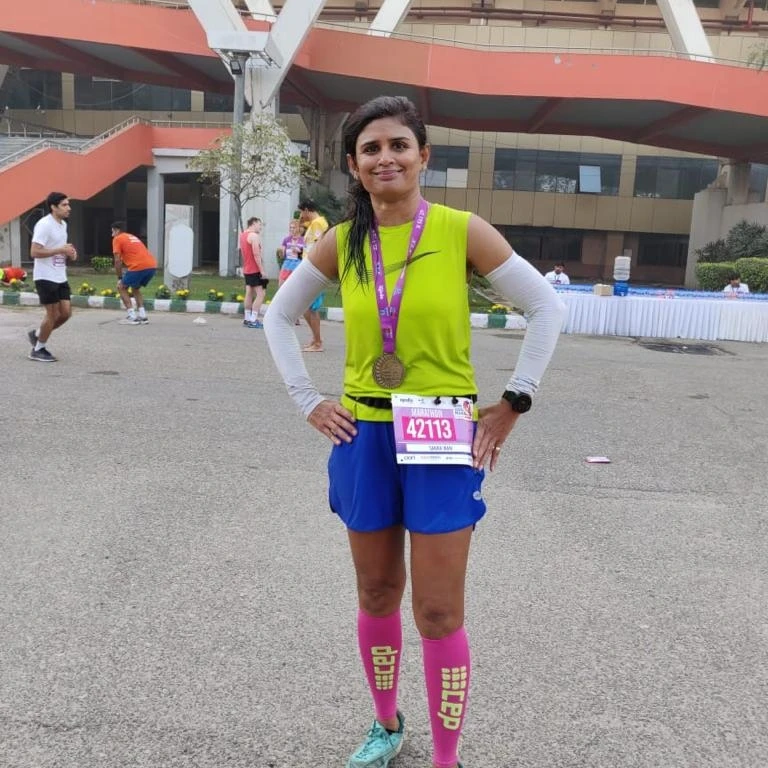 Sarika Inani
Mumbai (Thane)
Running Group:
Team motiv8
Running is my passion. Foray into fitness started 5 years ago with the Pinkathon 5km fun run.Running keeps me fit, happy, full of energy and positive minded always. It gives me mental peace in life.when I'm running ,I go into meditation mode and just forget everything. It's completely me time. I run because it made me confident person, I m todayAnd it helps me to become a better version of myself.Upcoming goal is to participate in the BMW BERLIN MARATHON IN SEPTEMBER 2023 Joy of running is truly incredible .It's a mental sport. I truly believe in the quote 'THE BODY ACHIEVES WHAT THE MIND BELIEVES'
Achievements till now:-1 gold and 2 silver medals in state level different category competition, and I've been selected for Nationals....
I've also won many Podiums in different category races. I have also finished the 72 km Khardung La challenge and the 50 km category at the Tata ultra.
This is my 1st time at the Hyderabad marathon. I've heard a lot about this event. Being organised by runners, with a point to point route though beautiful Hyderabad - I am really looking forward to it.
This is my 3rd pacing in HM.I love to help fellow runners to complete runs in their respective time goals.I'm planning to run even splits. Happy running everyone .
Read More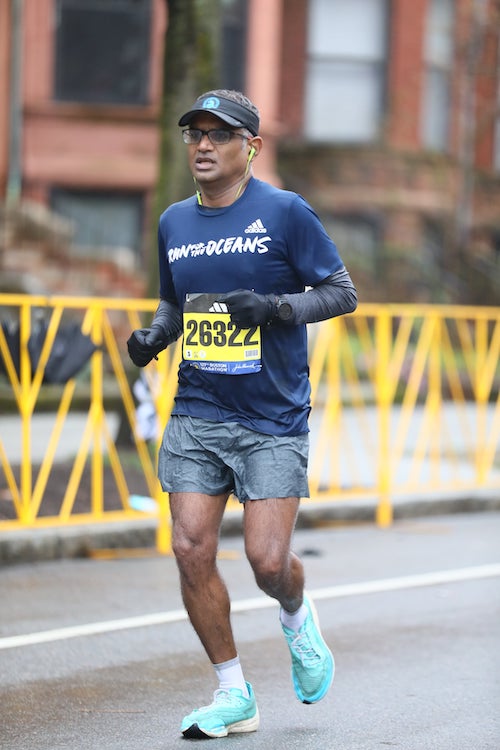 Lakshminarasimhan Sampath
Singapore
Running Group:
Thaarumaaru Runners
Hi, my name is Nars and I run with Thaarumaaru runners from Singapore. We are a running club that aims to promote health and fitness with the Indian community. I have run 17 marathons including the world majors and was the 29th Indian to get the 6 star medal. My running journey started in Hyderabad in 2004 when I was diabetic and weighed 89 kgs. I have come a long way and am clinically in remission since and a large part of it is the transformation enabled by the running journey.I ran the full marathon in Hyderabad in 2022. It was special to be able to run in the city where the journey started and get what was then my personal best. With my race schedules for the rest of the year, I am running half this time around
I have been a pacer in several races in Singapore in the 5, 10 and half marathon categories. ...
I look forward to pacing an event at home for the first time and will be one of three pacers for the half marathon with a view to finish under 2:15.
I will be in the 3rd corral and will be running G +2. That's 2 mins after the gun time from when the race flags off. I am going to be running even splits and will be in the 6.15/6.20 pace on flats with a slight variance on the hills of Hyderabad which will get us home with an average pace of 6.24 or under. Join me if you are planning to run it in under 2:15. It's a good pace group to aim for depending on where you are on your running journey. See you at the expo and on race day!!
Read More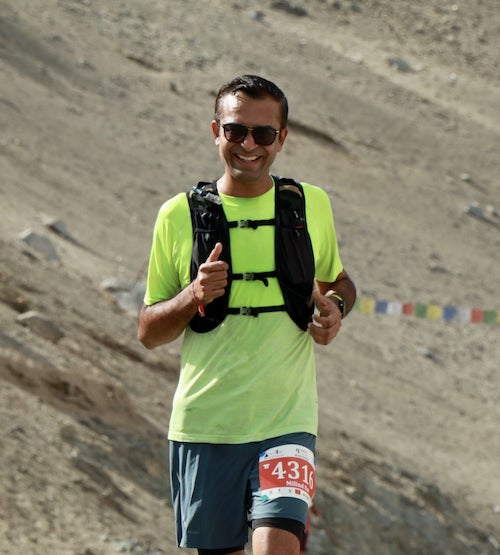 Milind Rai
Pune
Having picked running in my early 40s,I have come a long way starting from Hyderabad Runners Couch to 5K program in 2019. From running merely 250 km in 2019, I ran 2400+ km in 2020 and now have 10,000 Km + overall running experience. My consistency & commitment for running has helped me in improving my Half Marathon timing from 3:02 in 2019 to 1:45 at Adani Ahmedabad in 2022. I have run the Ladakh Full Marathon in 5:00 and my current FM PB is 4:00 at Mumbai TMM 2023. The Hyderabad Marathon is very special to me as I have run the course during my First Half Marathon and I have run the gruelling course as my First Official Full Marathon. The relentless rolling course of the race makes it one of the most challenging race courses across the country – but we runners don't like things to be easy....
The awesome volunteer support and the picture perfect course makes the run absolutely memorable.I always want to pass my gratitude to the Hyderabad runners and I feel it would be apt for me to choose this event to help others achieve their goals.I am delighted to be picked for the 2:30 half-marathon bus. Having paced in earlier editions of Hyderabad Marathon and Club runs, I am known not only for even splits but also cheering the folks running along. Let's keep it simple as I plan to go for even splits and very importantly enjoy the course and sag support.
Read More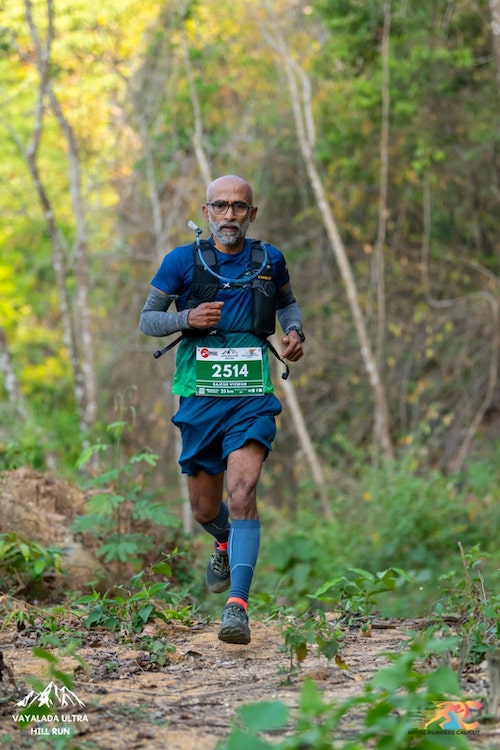 Rajesh Viswam
Kochi
Running Group:
Soles of Cochin
I am Rajesh Viswam and I'm working as a fitness coach in Kochi. I am a qualified table tennis coach. I have been running for more than 6 years. I have done quite a few full marathons, and many half-marathons. My HM PB is 1:53.
I am participating for the first time in the Hyderabad Marathon. This year I participated in the Kochi Marathon as a pacer. Being a coach I like to motivate my fellow runners. It gives immense satisfaction and pleasure to see people achieving their goals. I used to support beginners to get into the next level and also for achieving Sub2 hr HM.My pacing strategy would be to do even splits, keep encouraging and talking to the fellow runners.Wishing good luck to all the participants, see you all on the Race Day !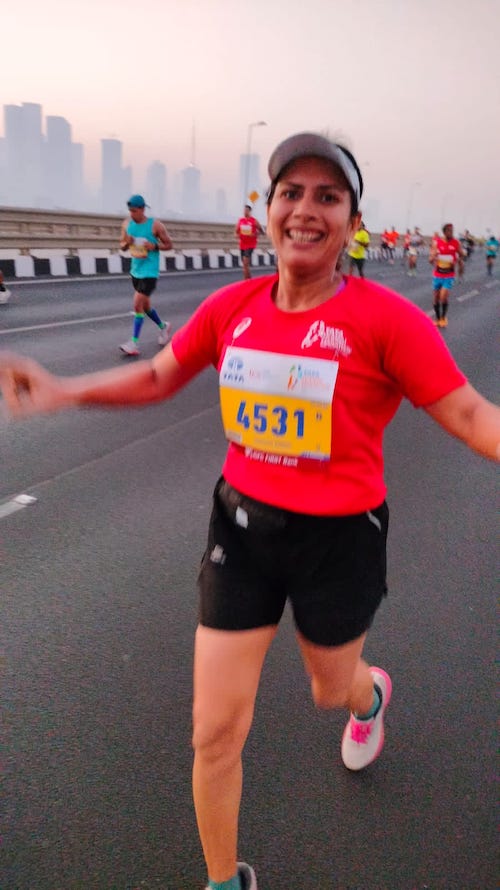 Shashi Singh
Hyderabad
Running Group:
Hyderabad Runners (My home jewel runners)
I have been running for more than 6 years and have run many half marathons and 3 full marathons. I started my running journey through Hyderabad runners K25k program and over the period running became part of my life. By pacing I intend to help runners to achieve their own goal.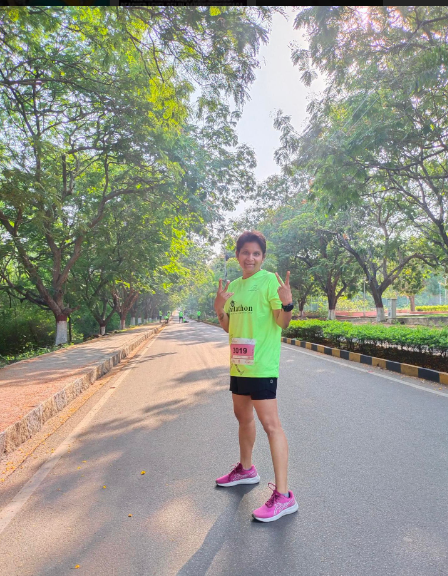 Anju Patel
Hyderabad
Running Group:
Hyderabad Runners
I am an active mother who is devoted to home and office and believes to raise my standard. I took up running at the age of 34 as a part of a Hyderabad 10 km event.
I run and set this time as "Time for myself" which would help me to plan out my whole day's activities including personal and official.Nothing is possible without family support. This support has made me build up the courage and do 2 full-timed marathons in Hyderabad, one Full timed in Mumbai, one 50 km timed ultra-marathon, and one full non-timed Marathon run to date.I believe that the way we have an entire day well-planned schedule for daily activities, on similar levels we should also include a one-hour physical workout in our daily timetable....
If physical activity is combined with a good nutritious diet, then an individual can see progressive results in their body.I am a strong plan devotee. This helps me to achieve the practical goal set for myself.The dictionary is the only place where success comes before work. Work is the key to success, and hard work can help you achieve anything.
Read More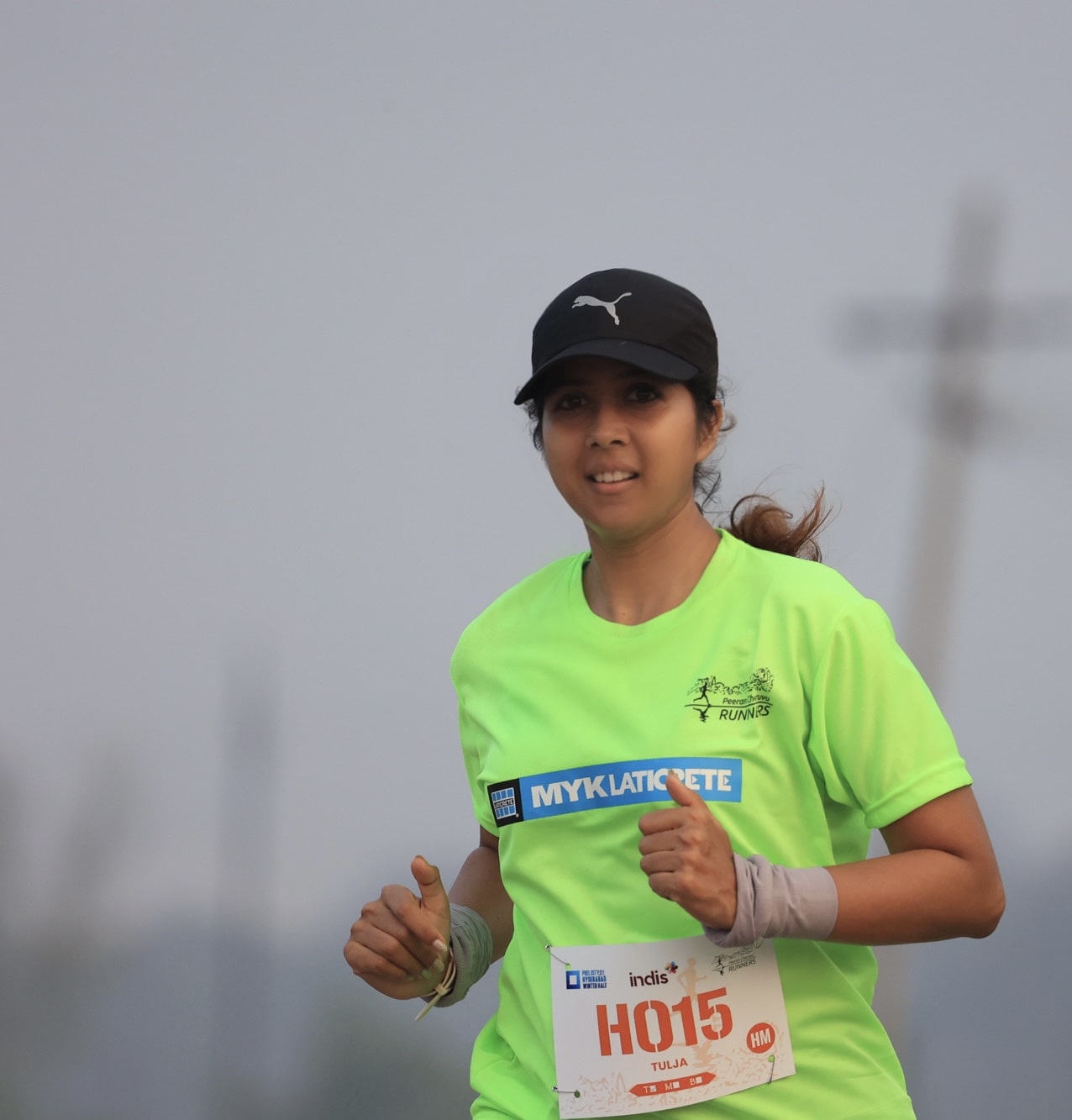 Tulja Mishra
Hyderabad
Running Group:
Hyderabad Runners
Tulja is a full time IT professional in a leading IT company. She is an avid reader and also likes spending time with her family and loves travelling. Her journey with fitness started in 2015 , when her mother-in-law coaxed her to run 5kms at the Airtel Hyderabad Marathon and there was no looking back. She initially took to running as a stress buster and to stay fit and now it's in her DNA. Huffing and puffing to complete 5kms back in 2015 to completing a couple of half marathons. She has mentored a couple of folks in August 2022 for Couch to 5K program led by Hyderabad Runners. Her aspiration is to run a full marathon in the coming years.She loves to motivate people around me to start their journey into fitness....
She is honoured to be one of your pacers for the most esteemed NMDC Hyderabad Marathon. Whether you're aiming for a personal best, completing your first race, or simply enjoying the run, She's there to help you achieve your goals.As pacers, her mission is to provide a steady and reliable pace to help you cross that finish line feeling strong and accomplished. Remember, today is about you and your achievement.She will be with you every step of the way, sharing tips, offering encouragement, and ensuring that we meet our target time.If you have any questions or need a boost, don't hesitate to ask her and she says Let's make this race an unforgettable experience and a celebration of your hard work and dedication. On your marks, get set, let's go!
Read More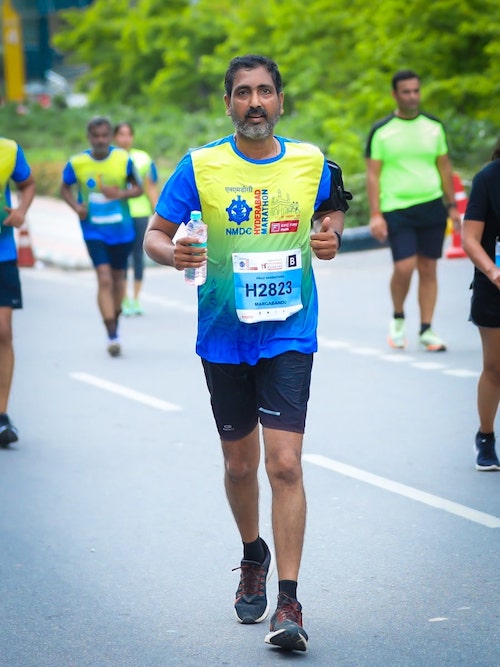 D N Margabandu
Hyderabad
Running Group:
Hyderabad Runners
I started my running journey in Jan 2020 with the Alwal Runners Club when I joined the Hyderabad Runners Flagship Kouch 25K program at Alwal. I did my first Half Marathon on 25th July 2020 with a timing of 2:42:00 . I have done around 30 Half Marathons as a part of my Long Runs/Participated in many events in Hyderabad, Tata Mumbai Marathon, Vijayawada Marathons. My longest run till date is 30 kilometres which I did this January. My motto is to run injury free and to run for pleasure and not to take it as a pressure.I have run the Hyderabad Marathon twice, the first being in 2021 and in 2022. Known as the toughest road marathons in India and also Flyover marathon , the course is undulating and formidable. ...
SAG support, medical emergency teams, road marshals and cheering residents will never let the running spirit go down.This will be my first pacing experience officially in any events and I am honoured and equally excited to be a part of its pacing team and I thank Hyderabad Runners for this. During our weekly long runs, I have done mutual pacing with new runners and that will be guiding me to take my bus on time.As a 2:50 bus , With an average pace of 8:00:00 per kilometre, my strategy is to start slowly, respect the elevations, mostly run at a pace between 7 :15 to 8:30,and finish it strong . There will be ample hydration breaks at SAG points and a slow run walk in the elevations. The aim is to finish strong and carry a lot of happy memories.
Read More